Policies and Procedures
Berglund Center is committed to the continued safety of our guests, staff, and performers who enter our doors. To ensure your health and safety, we have requirements when visiting our venue. We thank you for your continued support of Berglund Center and we hope to always provide you with the best experience!
Berglund Center follows the Clear Bag Policy at all of our venues. Please see below for the policy.
The Berglund Center box office hours are 10a.m–6 p.m. Monday - Friday.
All ticket purchases are final. No refunds or exchanges are given, *except in the case of an event cancellation or reschedule*
***We reserve the right to make a change to seat location due to emergency, repairs, or any other circumstance that Berglund Center deems necessary for relocation***
Postponed Events: Berglund Center staff is working diligently to attempt to reschedule postponed events. Ticketholders should hold on to their tickets until additional information is available regarding rescheduled dates.
Rescheduled Events: Previously purchased tickets for the original date will be honored at the rescheduled date. No exchange necessary.
To obtain a refund on tickets for a rescheduled (not postponed) event, please visit the Berglund Center Box Office (hours are box office hours are 10a.m–6 p.m. Monday - Friday.) or email a copy of your tickets and/or receipt to tickets@theberglundcenter.com along with your contact information (name, mailing address and daytime phone )
*please note Box Office staff are unable to process refunds unless a confirmation number, proof of purchase, tickets and contact information is provided.
All refund requests for rescheduled events must be made within 30 days of announce new event date.
Canceled Events: If an event is Canceled, all tickets will be fully refunded via point of purchase. For additional questions please call 540-853-2241 or email
We suggest you keep a copy of your tickets for your records. Once we receive your tickets, a box office representative will contact you regarding the processing of your refund. Please allow 5- 7 business days for a refund to process. Due to the high volume of events, refunds may take up to 30 days to process. Thanks for your patience.
For a complete guide to Rail Yard Dawgs games, please click here.
The following is a list of outside items which are prohibited inside of venues owned and/or operated by Berglund Center inculding Elmwood Park. All prohibited items must be disposed of or returned to vehicles.
All chairs including lawn chairs are NOT ALLOWED. Stadium seats ARE allowed at Elmwood Park ONLY
Umbrellas
Weapons of any kind or facsimiles of weapons, including firearms, pellet guns, stun guns, martial arts weapons, pepper spray, pocket/utility knives or cutting instruments
Flammable liquids
Fireworks, pyrotechnics, flares or incendiary devices
Glass, metal, or plastic containers of any kind including cans, bottles and flasks
Outside food or beverages including alcohol
Oversized bags that exceed 5.5″ x 8.5″
Laser pointers
Audio or video recording
Professional cameras with detachable lenses exceeding 2" in length or flash photography
Laptops/tablets
Signs, flags, banners except when otherwise indicated Guests without shoes or shirts
Masks (with the exception of medical or those required for Covid health and safety compliance)
Jewelry that could be used as a weapon including heavy chains and studded bracelets
Pets, other than service animals; not to include comfort animals unless otherwise indicated in advertising for special events
Unapproved pamphlets, handouts, advertisements
Unattended items left outside venue doors will be discarded to ensure guest safety.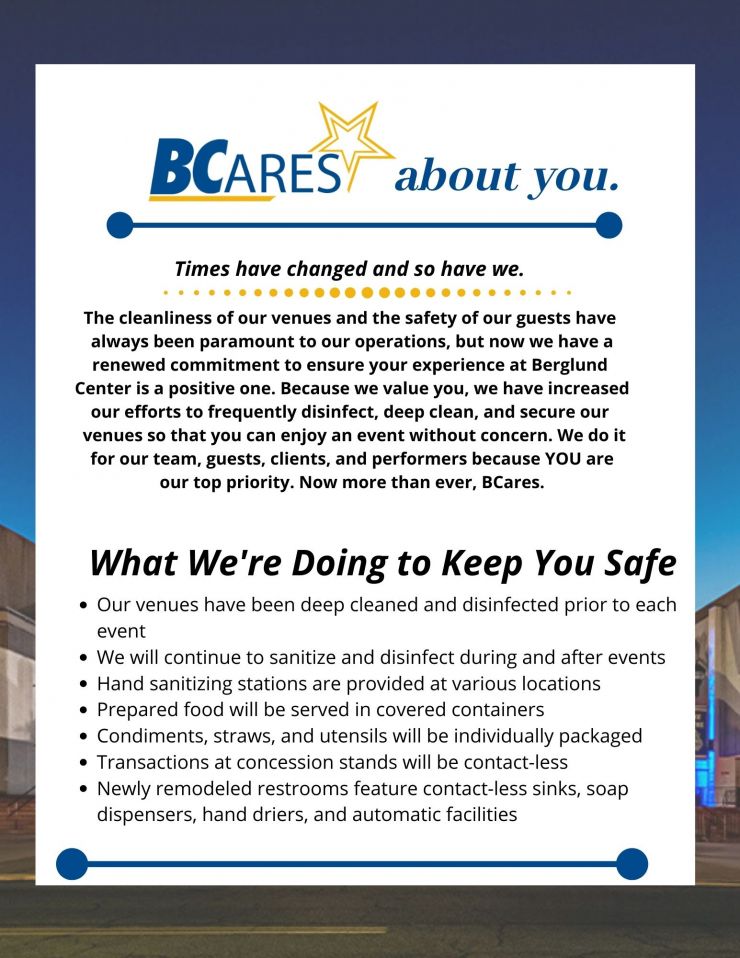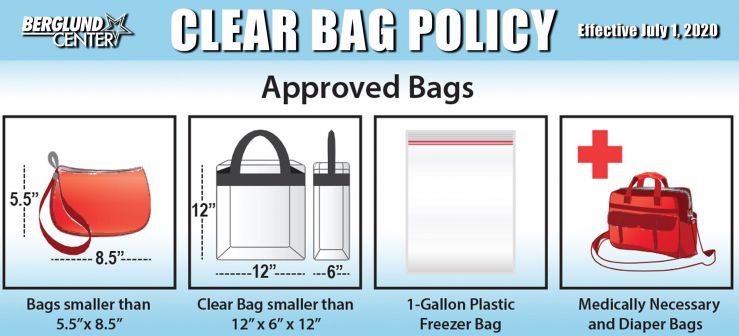 ---
Privacy Policy
Your privacy is very important to us. We do not sell or rent your personal information to third parties for marketing purposes. Please read this privacy policy to learn more about the ways in which we use and protect your personal information.
The privacy practices of this statement apply to our services under the domain and sub-domains of henritzedentaltickets.com, the site, the domain, sub-domains and web pages of our clients. By visiting the site you agree to be bound by the terms and conditions of this privacy policy which describes the information we collect from you and what may happen to that information. By accepting this policy you expressly consent to our use and disclosure of your personal information in accordance with this privacy policy.
Information You Give Us
We receive and store any information you enter on our site or give us in any other way. You can choose not to provide certain information, but then you might not be able to take advantage of many of our features. We use the information that you provide for such purposes as responding to your requests and communicating with you.
Your contact information is used to contact you when necessary in connection with transactions entered by you into the site. Your contact information is provided to the venues and promoters of concerts and events (clients) for which you purchase tickets. Our clients will use the customer contact information we collect in order to send you information and offers about upcoming events.
Your information is stored on our servers in the United States. We use procedural and technical safeguards to protect your personal information against loss or theft as well as unauthorized access and disclosure to protect your privacy, including SSL, VPN encryption, and hardware firewalls.
Cookies
We receive and store certain types of information whenever you interact with us. For example, like many websites, we use "cookies" and we obtain certain types of information when your web browser accesses the Site.
We use cookies on certain pages of the Site to help analyze our web page flow, measure promotional effectiveness, and for other purposes related to your transaction on the Site. Cookies are small files placed on your hard drive that assist us in providing our service. We offer certain features that are only available through the use of a cookie. Most cookies are "session cookies," meaning they are automatically deleted from your hard drive at the end of a session. You are always free to decline our cookies if your browser permits, although in that case, you may not be able to use certain features on the Site.
Financial Information
Financial information that is collected is used to check your qualifications and bill you for products and services. We will not share financial information with third parties, except with our clients whose events you are attending, without prior consent. When you make a purchase on the site, your consent is given to provide financial or contact information to those third parties necessary to process your transaction with us.
Third Party Links
Our site may sometimes contain links to third-party websites for your convenience and information. When you access a website other than the site, we are not responsible for the privacy practices or content of that site.