MANNHEIM STEAMROLLER CHRISTMAS
Dec 2, 2022
Berglund Performing Arts Theatre
Ticket Prices: $79 and $65
Parking: $5.00
Show Start time: 7:30pm

SEATING CHART BUY TICKETS PARKING PASS
MANNHEIM STEAMROLLER CHRISTMAS by Chip Davis has been America's favorite holiday tradition for over 35 years! Grammy Award winner Chip Davis has created a show that features Mannheim Steamroller Christmas classics in the distinctive Mannheim sound. The program celebrates the group's recent anniversary of 35 years since the first Christmas album and includes dazzling multimedia effects performed in an intimate setting. Experience the magic as the spirit of the season comes alive with the signature sound of Mannheim Steamroller.
Featured Events









Elmwood Park
Ticket Prices: $700 and $45 in advance, $50 day of event
Show Start time: 7:30pm

BUY TICKETS
The Backroads Blues Festival! This festival of blues tunes includes music from Buddy Guy (The legendary blues artist's eighteenth solo LP and follow-up to 2015's Born to Play Guitar showcases his raw and unadulterated sound, its fifteen tracks a true pleasure for aficionados and genre newcomers alike), Kenny Wayne Shepherd (The Louisiana born axe-man and songsmith has sold millions of albums while throwing singles into the Top 10, shining a light on the rich blues of the past and forging ahead with his own modern twist on a classic sound he has embodied since his teens), and Christone "Kingfish" Ingram (with both eyes on the future and the blues in his blood, 20-year-old guitarist, and vocalist and songwriter is set to take the music world by storm with the May 2019 release of his debut album, KINGFISH. "I do think I have an old soul, that I've been here before," he says. "I'm moving forward with one foot in the past.").
Elmwood Park
Ticket Prices: $700 and $39 in advance, $44 day of event
Show Start time: 7pm
BUY TICKETS
Experience musical sensations Gov't Mule and Trombone Shorty!
Gov't Mule – Warren Haynes [vocals, guitar], Matt Abts [drums], Danny Louis [keyboards, guitar, and backing vocals], and Jorgen Carlsson [bass] – has galvanized a global fan base with their honest, organic and daring music and improvisational virtuosity, leading them to be recognized as one of the most timeless, revered and active bands in the world whose spot amongst rock titans remains unshakable. Led by visionary GRAMMY Award-winning artist and guitar legend Warren Haynes – a cornerstone of the American music landscape – the enduring, globally revered group has showcased its intelligence and breadth over the course of 20+ studio and live albums, thousands of memorable performances and millions of album and track sales. Gov't Mule has become a human encyclopedia of great American music while adding to that canon with their signature sound. The band's flexible interplay in the studio and on stage makes them a true living, breathing ensemble and Haynes is lauded as one of the most formidable guitarists and vocalists of the modern era and a prolific songwriter and producer. Throughout his prolific career as part of three of the greatest live groups in rock history – Allman Brothers Band, Gov't Mule and the Dead – and an acclaimed solo artist, Haynes has become one of music's most treasured storytellers.
If anybody knows their way around a festival, it's Trombone Shorty. By his teenage years, he was hired by Lenny Kravitz to join the band he assembled for his Electric Church World Tour. Shorty's proven he's more than just a horn player, though. Catch a gig, open the pages of the New York Times or Vanity Fair, flip on any late-night TV show and you'll see an undeniable star with utterly magnetic charisma, a natural born showman who can command an audience with the best of them. Since 2010, he's released four chart topping studio albums; toured with everyone from Jeff Beck to the Red Hot Chili Peppers; collaborated across genres with Pharrell, Bruno Mars, Mark Ronson, Foo Fighters, ZHU, Zac Brown, Normani, Ringo Starr, and countless more; played Coachella, Bonnaroo, Lollapalooza, Newport Folk, Newport Jazz, and nearly every other major festival; performed four times at the GRAMMY Awards, five times at the White House, on dozens of TV shows, and at the star-studded Sesame Street Gala, where he was honored with his own Muppet; launched the Trombone Shorty Foundation to support youth music education; and received the prestigious Caldecott Honor for his first children's book.
Berglund Hall
Show time: 9pm to 2am
The William Fleming Reunion 90's Party, for alumni & friends brought to you by Sec2none, Shaquan Manning, Tobroan Jumper, and Rock Bottom Records! Doors open from 9:00 PM - 2:00 AM on August 27th. Music provided by the incredible DJ POLO from 102 JAMZ the hip hop station!. Advanced tickets cost $20. Tickets are sold at Berglund Center, Evolve, and Event Link & Alumni. Call RJ 540-580-7118!
The Greater Virginia Bridal Show
1:00pm - 5:00pm Berglund Special Events Center

The Greater Virginia Bridal Show
Sponsored by Virginia Bride Magazine

Admission: $10 cash only. (ATM on-site)
Kids 12 & Under get in free.
Price Includes Facility Fee.
Roanoke's premier bridal show hosted by Virginia Bride Magazine.

Bring your friends and family and visit with the area's leading wedding professionals on display to plan your perfect wedding!
Talk to knowledgeable vendors in person, learn about their services, see their work, save time and money by seeing everyone in one place in one afternoon.

Sample cakes, desserts, and catering samples.

Many vendors will offer special show discounts to those who wish to book that vendor's service.

Enjoy a designer fashion show presented by leading bridal stores including Ashley Grace Bridal, Becky's Bridal, That's My Dress Bridal, Isabella Grace Bridal.

Couples attending have the chance to win thousands of dollars in giveaways by the participating wedding vendors.

Grand Prize- Honeymoon.

For additional information,
visit https://www.vabridemagazine.com/roanoke-bridal-show-january-16-2022/
Berglund Performing Arts Theatre
Ticket Prices: $94.50, $77.50, $64.50, $50.50, $39.50
Parking: $5.00
Show Start time: 8:00pm

SEATING CHART BUY TICKETS PARKING PASS
Born and raised on the south side of Chicago, comedian-turned-actor DeRay Davis can most recently be "scene" and heard in the blockbuster mega hit 21 Jump Street, Jumping the Broom and his wildly successful Showtime 1 hour Comedy Special, DeRay Davis: Power Play. He lends his voice and writing talent to countless characters on Kanye Wests Albums the BoonDocks and currently on Adult Swims Black Dynamite!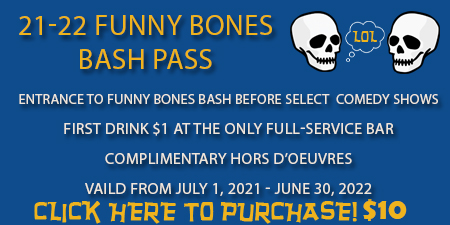 Funny Bones Bash Pass gets your entry to pre show parties for all comedy shows from January 1, 2022- Decemeber 31 2022 This exclusive party will take place before select comedy show and will feature full-service bar, and complimentary hors d'oeuvres This pass includes first drink $1 to EACH pre sale party, discounted ticket offers to future events, and early access to tickets for selective events. Dont miss out and become a apart of this exclusive club today!
Berglund Performing Arts Theatre
Ticket Prices: $49, $30 and $25
Parking: $5.00
Show Start time: 7:30pm

SEATING CHART BUY TICKETS PARKING PASS
The Purple Xperience, Prince Tribute Band is a five-piece group hailing from Prince's birthplace, Minneapolis, MN. They have been touring around the country since it's inception in 2011 by Dr. Fink and front-man Marshall Charloff – bringing the greatest and most authentic production of Prince and The Revolution in the world to audiences of all generations. Since 2011, Purple Xperience has entertained well over 300 thousand fans and has shared the bill with The Time, Cameo, Fetty Wap, Gin Blossoms, Atlanta Rhythm section, and Cheap Trick. Lead singer, Marshall Charloff, not only styles the magic of Prince's talent in an uncannily unmatched fashion with his appearance, vocal imitation, and multi-instrumental capacity on guitar and piano. Recently, Marshall Charloff teamed up with the famous jazzman Marcus Anderson (New Power Generation, 3rd Eye Girl sax player) in Raleigh, NC to perform with the North Carolina Symphony Orchestra. Marshall recorded with Prince on the album 94 East, (where Marshall plays both, keyboards and bass guitar and Prince is on lead vocals). Pepe Willie, who discovered Marshall, was also responsible for getting Prince's career up and running. In 2009, Marshall teamed up with Doctor Fink from Prince and the Revolution and Pepe Willie from the band 94 East to perform at the Rock and Roll Hall of Fame benefit concert (On the same bill were Cheap Trick, Atlanta Rhythm Section, and the Georgia Satellites).
Berglund Performing Arts Theatre
Ticket Prices: $87, $67, 57, $47 and $37
Parking: $5.00
Show Start time: 8:00pm

SEATING CHART BUY TICKETS PARKING PASS
America's Game® is going on tour! "Wheel of Fortune Live!" is traveling across North America and coming to you with a chance to be part of the excitement!
Join us and take a spin to solve the puzzles in person! Guests can try out to go ON STAGE and PLAY to WIN BIG at every show. Audience members will be randomly selected to win cash and prizes! One of the greatest game shows of all time wants to make everyone a winner at "Wheel of Fortune Live!" – so bring your family and get ready for some F-U-N!
Click HERE for offical Rules
No purchase necessary to register for a chance to be a contestant.
For full official rules and eligibility requirements, call or visit the Box Office. Void where prohibited.
© 2022 Califon Productions, Inc.
Berglund Performing Arts Theatre
Ticket Prices:VIP $201.75, $71.75, $31.75, $21.75
Parking: $5.00
Show Start time: 7:00pm
Support artist: BEN FULLER
SEATING CHART BUY TICKETS PARKING PASS
ZACH WILLIAMS FALL '22 TOURZach Williams' powerful and poignant journey spans how a boy with a storybook childhood filled with wonderfully nurturing parents, a strong and supportive grounding in the church, and a warm and loving local community was seduced away by the illusion of rock stardom, and the drug and alcohol excesses that can so often accompany that lifestyle.
These days, the Jonesboro, Arkansas-raised and currently Nashville, Tennessee-based artist is a renewed man. He's a husband, a father, and has also become one of CCM's leading artists and songwriters by carving a niche with his singular blend of southern rock, country, and faith-filled songwriting, which quickly awarded him his first GRAMMY Award® with his debut album, 2017's Chain Breaker. With two additional GRAMMY nods among numerous other accolades, he now returns to share his boldly vulnerable and hope-filled sophomore album, aptly titled Rescue Story.
VIP Exclusive Eat & Greet Experience: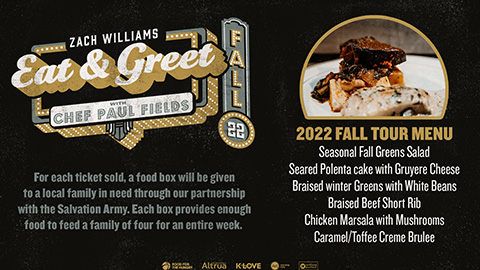 Enjoy an amazing meal and make a difference in your local community, world-renowned chef Paul Fields will be crafting a gourmet dinner that you will never forget! This exclusive VIP Eat and Greet experience includes:
One (1) entry to pre-show VIP Eat & Greet full-course gourmet dinner prepared by professional chef Paul Fields
Meet Zach Williams and get your picture taken with him*
Premium concert seating
Early access to merch shopping
Commemorative VIP tour laminate
Gift bag
For each ticket sold a food box will be given to a local family in need. Each box provides enough food to feed a family of four for an entire week.
* If health and safety guidelines change, a Question & Answer session may be substituted.
This is a very limited offer. Join us for this exclusive VIP experience! Must arrive by 5:00pm.
Berglund Performing Arts Theatre
Ticket Prices: $99, $84, $64 and $44. *VIP $329
Parking: $5.00
Show Start time: 7:30pm

SEATING CHART BUY TICKETS PARKING PASS
SPECIAL GUEST: EMO PHILIPS
THE UNFORTUNATE RETURN OF THE RIDICULOUSLY SELF-INDULGENT,
ILL-ADVISED VANITY TOUR
Almost four years after his first foray into unfamiliar concert territory with his highly-acclaimed Ridiculously Self-Indulgent, Ill-Advised Vanity Tour, "Weird Al" Yankovic is pressing his luck again, this time with The Unfortunate Return of the Ridiculously Self-Indulgent, Ill-Advised Vanity Tour. The tour marks Weird Al's long-anticipated return to the concert stage after his hugely successful Strings Attached Tour in 2019 where he performed each night alongside a full symphony orchestra.
Once again drawing from his back catalogue of 14 studio albums, Weird Al promises to deliver a different set list every night, with no two shows the same. As before, rather than focusing on the hits from his career, the show will feature Yankovic's non-parody material – the somewhat more obscure pastiches and original songs that have largely escaped the pop culture radar but are adored by his long-time fans. And like the last Vanity Tour, he is leaving behind the high-octane theatrics that he's known for and going bare-bones – no costumes, no props, no video screens… just Al and his band of almost four decades in smaller, more intimate venues, hanging out on stage, playing music.
----------------
"Weird Al" Yankovic is the biggest-selling comedy recording artist of all time. A five-time Grammy winner, his 2014 release Mandatory Fun was the first comedy album in history to debut at #1 on Billboard's Top 200. He is one of only five artists to have had Top 40 singles in each of the last four decades, the other four being Michael Jackson, Madonna, U2, and Kenny G. On August 27, 2018 the Hollywood Chamber of Commerce awarded Weird Al with a star on the Hollywood Walk of Fame.
Legendary comedian Emo Philips has performed over 7000 stand-up comedy shows across the globe, including a two-week theater run in London's West End. Career highlights include his acclaimed comedy album E=MO Squared and the hour-long HBO special Emo Philips Live at the Hasty Pudding Theatre. Emo is especially proud, however, of when he got to demonstrate the proper use of a table saw to Weird Al in the film UHF.